It's nearly impossible to get agreeable crowd estimates. In fact, "official" crowd counts became so contentious in 1995 after the Million Man March (the National Park Service estimated only 400,000 attendees) that Congress banned the park service from releasing any numbers. But satellite and aerial photography allow other ways of comparing crowd sizes.
The National Mall hosted President Donald Trump's inauguration on Friday, followed by the Women's March on Washington on Saturday. Trump's inauguration drew fewer people than Obama's 2009 ceremony, which was the most well-attended in history. The Women's March was estimated have drawn between 400,000 and half a million. According to satellite imagery analysis done by The New York Times, the women's march drew three times as many participants as the Trump inauguration.
But you don't need to be a crowd scientist to see the difference.
We found two images of the National Mall taken by the National Park Service's EarthCam. The first was taken at 12:12 p.m. ET on Friday, about 13 minutes after the inaugural ceremony began. The second was taken at 11:45 a.m. on Saturday, about 90 minutes before the march was scheduled to start.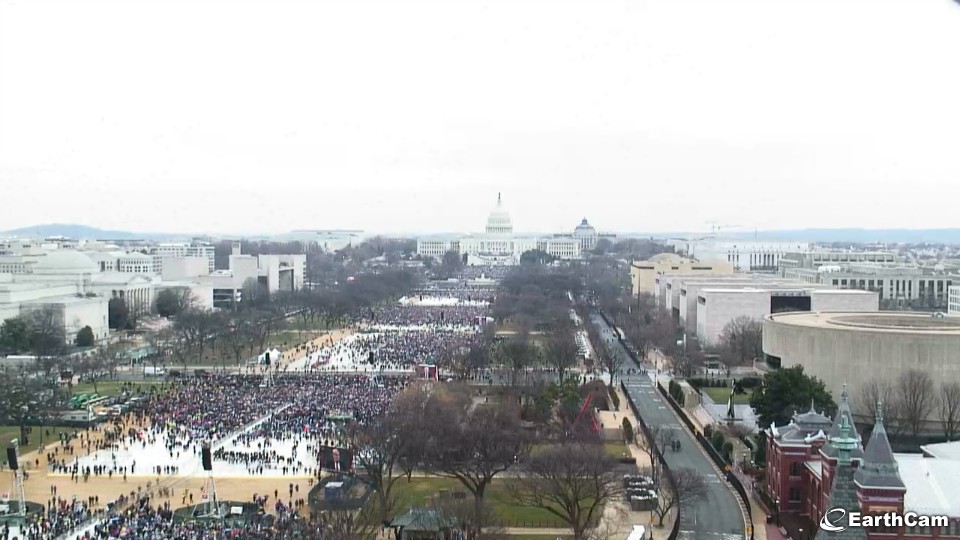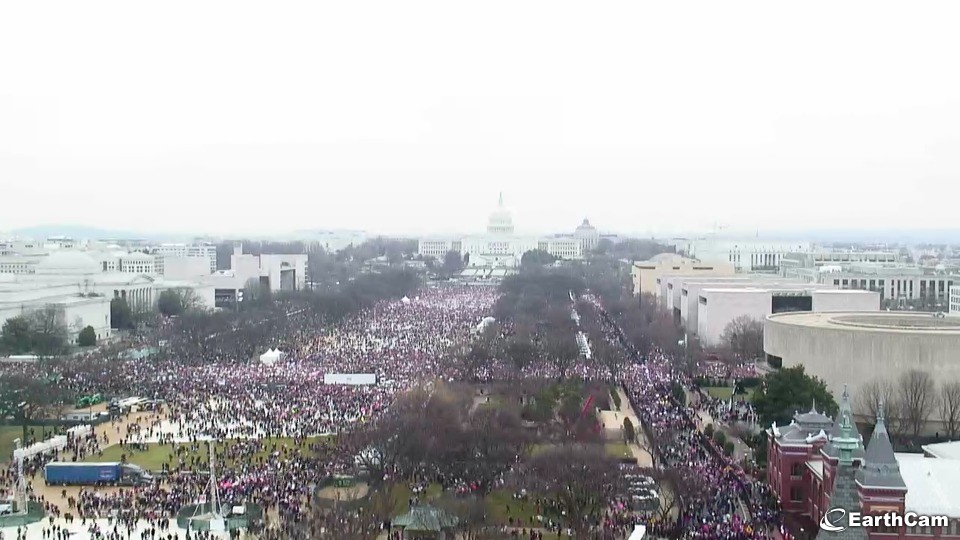 Marchers have flooded the National Mall, but also Independence Avenue SW, the rally's gathering point, and stretch back almost two miles to the Lincoln Memorial. In the inauguration photo, crowds are tightly packed around the Capitol Building, but do not stretch to the Washington Monument, which is half the distance between the Capitol and the Lincoln Memorial. Protestors also fill Constitution and Independence Avenues, streets that were closed to crowds on Inauguration Day.
Another indicator of the difference in crowd size is the Metro subway ridership of both days. The numbers until 11 a.m., one hour before the inauguration and two hours before the march, have shown that rider entries on Saturday is more than 40 percent higher than on Friday.
According to the Washington Post, Metro said subway ridership for the day and evening of the Women's March reached 1,001,613 entries, the second highest daily volume in Metro's 40-year history, after the 1.1 million entries recorded on Jan. 20, 2009 when Obama was sworn in.
The Trump administration incorrectly told reporters on Saturday that 1.5 million attended the inauguration, and insisted, without offering any evidence, it was the largest turnout ever.
"This was the largest audience to ever witness an inauguration, period," White House press secretary Sean Spicer said at his first press conference in the White House briefing room on Sunday.